Click here for the Baltimore Business Journal article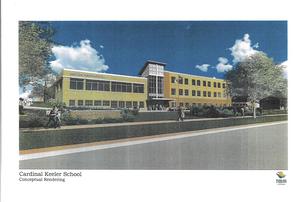 Like many after the 2015 unrest in Baltimore following the death of Freddie Gray, Jack Dwyer wanted to help make a difference.
Like many after the 2015 unrest following the death of Freddie Gray, Jack Dwyer wanted to help make a difference.
After multiple conversations with the Archdiocese of Baltimore and Archbishop William E. Lori, Dwyer eventually made a $3 million donation that was the seed money for the fundraising effort to build the first new Catholic school in Baltimore in 57 years.
"There are two things in life that gave me the right direction when I was growing up, education and recreation," said Dwyer, a businessman who owns Capital Funding Group and its subsidiary CFG Community Bank. "They really kept me on the right path. After Freddie Gray, I thought there was not enough capital spent from an education perspective."
Dwyer, who was raised with a Catholic education, has been a consistent donor to local educational institutions, including Cristo Rey Jesuit High School. His donation for the planned new Catholic school is the largest pledge the Archdiocese has raised to date.
The Archdiocese has raised $14.1 million total toward its $18.6 million goal. In April, the Archdiocese publicly announced plans for a new co-ed school planned near the University of Maryland BioPark at the site of the former Lexington Terrace Elementary School on downtown's west side.
The 66,000-square-foot school will be named after the late Cardinal William H. Keeler, and serve about 500 students from pre-K through eighth grade.
Jim Sellinger, chancellor of education for the Archdiocese of Baltimore's school system, said in a statement the organization is "forever grateful" to Dwyer and his wife, Nancy, for being champions of Catholic education.
"Together we are focused on strengthening Baltimore City and this bold move will contribute to its continued revitalization," Sellinger said. "By providing access to a new Catholic school on the near west side, the Cardinal Keeler Catholic School will be another anchor in the community and serve the children of Baltimore City with access to a quality Catholic education."
Dwyer remembers meeting with the Archbishop for lunch within six months of the April 2015 unrest. They talked about education and Lori mentioned his dream of opening a new school. Dwyer eventually committed to being the lead donor.
Dwyer's hope was that by providing a large donation upfront, it would help spur more people to get involved. He lauded the fundraising efforts of the Archdiocese, and noted Lori worked hard to get a bill passed in the General Assembly that would help provide children with vouchers to attend private schools.
City officials are working hard to deal with Baltimore's crime issues, Dwyer said, but the business community has a responsibility to help.
"To me, if anyone does anything, follow my lead and contribute to education and recreation," Dwyer said. "They helped channel my life. The government can't do it on their own, it has to have help."
Written by:
Holden Wilen